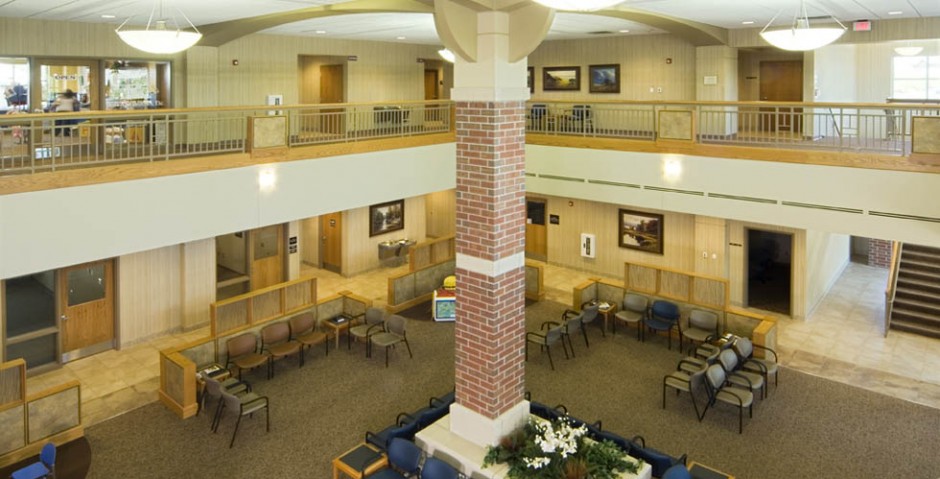 K21 health SERVICES PAVILION
Project Type: Healthcare/Community Center
Size: 30,000 s.f.
Location: Warsaw, Indiana
Professional Services: Architecture, Engineering & Interior Design
K21 Health Services Pavilion (2009 AIA Merit Award Winner) is located adjacent to the Kosciusko County Hospital Campus. The Health Pavilion provides county residents a single location to access various health and wellness services. This unique facility was conceived by the K21 Foundation as a "health services mall/community center" which consolidates multiple agencies that were previously located around the county into a centralized campus.
The award-winning design provides a cohesive solution to the multiple varied needs of the agencies and their clients. While aiding residents in the county in accessing the various complimentary services, the space helps minimize transportation challenges and creates a cohesive organization of services. In return, this single location increases the number of residents served in the county and the quality of care they deserve.
Programs located inside of K21 include:
Kosciusko County Health Department
Cancer Resource Center
WIC (Women, Infants and Children)
B.A.B.E. Boutique, Heartline Pregnancy Center
Medication and Dental Assistance
Kosciusko Home Care and Hospice.